Are you on the lookout for ideas on how to add light to a room without ceiling light? A friend recently changed apartments and was disappointed to find out the master bedroom and the living room have no provision for ceiling lights.
Rooms without ceiling lights are a common theme in houses built in the 1970s and earlier. The norm was to use low-level lights instead of bold overhead lighting in spaces where people are expected to spend plenty of time. This is 2022, and we know better. It is generally accepted that a unique blend of both lighting types will give your home a modern feel.
After spending big bucks on the apartment and moving to the new crib, he was not open to the idea of spending a lot of money on having an electrician install ceiling lights. So, together, we decided to get creative to find a lighting solution. Fortunately, there are many interesting options on the market that will allow you to light up the rooms without installing a ceiling light.
After several considerations, we came up with the following alternative room lighting options. Hopefully, one of these methods will appeal to you.
How to add light to a room without ceiling light
Wall Sconces
Sconces in interior decoration refer to the beautiful hanging posts often seen extending from walls. One glance and you will think wall sconces are fixed to walls and can only be installed by electricians.
Not true!
With a plug-in sconce, you will have a beautiful light adorning and illuminating your room without electrical wirings. Simply buy one, mount, plug, and….. there was light!
Wall sconces are aesthetically pleasing when installed in pairs. You can uniformly arrange many sconces in your hallway or have one on both sides of your bed.
Sconces can also serve as decorative items, but you will need additional fixtures in your room for full lighting.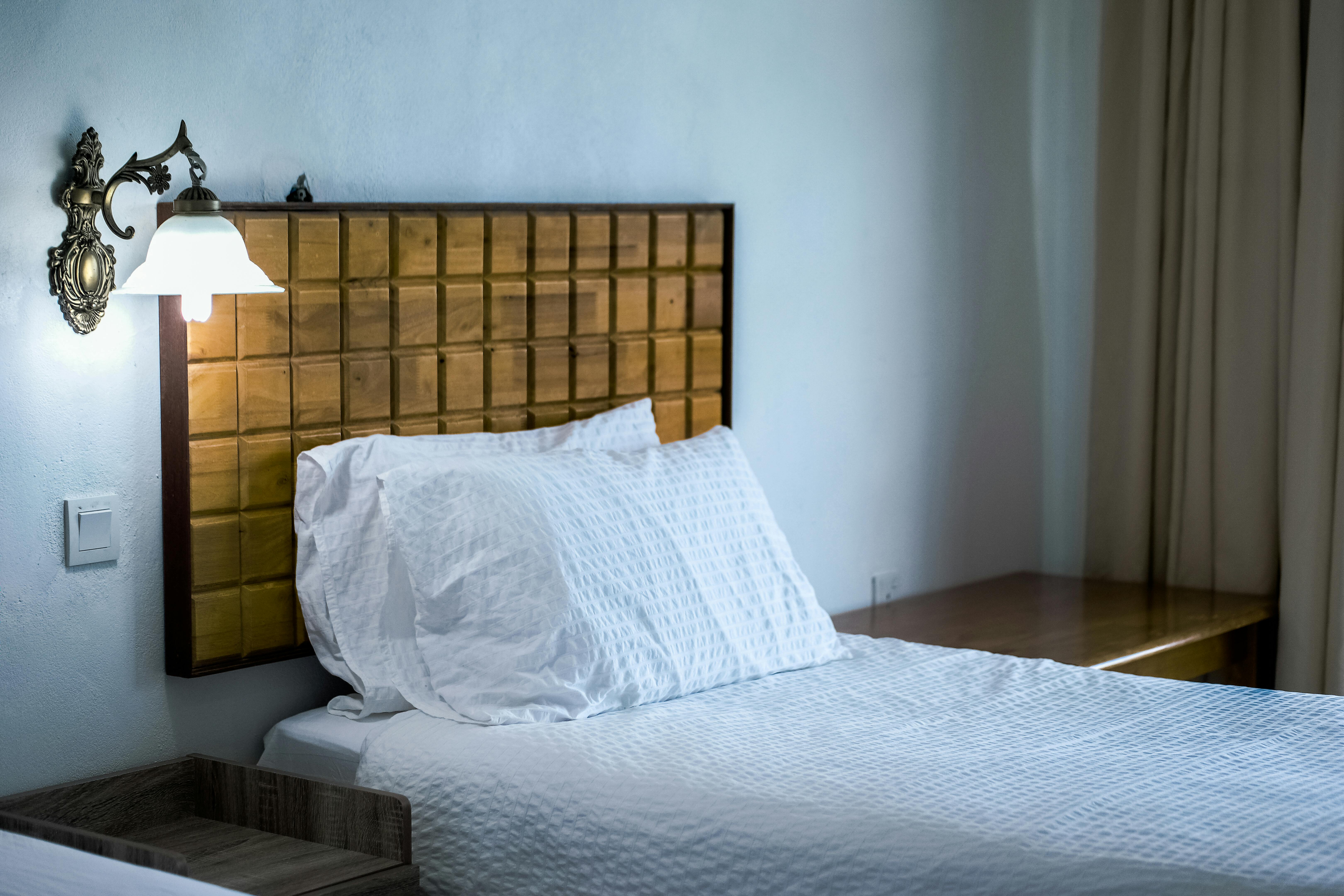 Floor Lamps
When placed in a pitch dark room, a floor lamp will bring your room to life. Simply screw the bulb into a floor lamp socket, plug it into a power source (except it is battery powered).
Voilà! You only need to rotate the light switch to illuminate your room. And if it is a smart bulb, you can even control the power and brightness using a smart speaker or phone.
You can place tall and super-bright lamps in your room to replace ceiling lights. For a large room, use two or more evenly distributed floor lamps for maximum illumination.
LED Strips
These are great for illuminating a darkly lit room with dim colored lights for romantic dinners or movie nights. Do you need lighting in your kitchen? LED strips are perfect as under-kitchen cabinet lighting to illuminate the countertops.
With LED strips, you do not have to install hooks or drill holes to mount fixtures. Instead, peel off the adhesives, fix the tape gently; and you are done!
Sounds easy, right? It is not easy to completely light up your room with LEDs. As such, they should be used as secondary light sources, not primary.
Hanging Pendants and Lamps
If the table and floor lamps leave you craving the traditional overhead lights, you will love the hanging pendants lights. From simple bulbs to ornate chandeliers, many stylish lightings will elevate your room's aesthetics.
Many pendant lights have long power cords that can be extended to the nearest power outlet or wall. All you need is a hook to hold the light fixture and another hook to hang the cord. After this, run the remaining part of the cable along the wall, where it will not constitute a nuisance.
Worried the cords will make your room unsightly? Go for hanging lamps or pendants having colored or cloth cords. This will help it blend seamlessly with the interior decoration.
Table Lamps
This is another beautiful alternative light source to the ceiling light. Table lamps on side tables will occupy and illuminate spaces your light pendants might poorly reach. They are suitable for desk work like drawing or reading. However, these lights are designed to illuminate a small surface area with sufficient light needed to accomplish an activity. As such, you may need to supplement table lamps with other light suggestions on this list.
String Lights
As discussed in the LED strips above, string lights are also excellent secondary light sources. This is because, as beautiful as string lights are, they are not meant to be the primary source of lighting in a living room. Instead, they are perfect for accentuating window and door frames or the spaces above beds, couches, and big furniture.
Having said that, some string lights can be used as full-room lighting. Models with large, circular-shaped bulbs rather than the small, cylindrical-shaped ones will provide sufficient room lighting when they are hung from exposed pipes.
Starlights
Here is a fantastic idea, why install only lights when you can beautify your room with patterns? Enter starlights. My precious!
With starlights, you will transform your room into a colorful utopia, not just beautiful blue, red or green projections, but galaxies and stars projections too. Most starlights screw into standard-based lightings such as ceiling sockets, floor and table lamps, and pendant lights. It projects galaxy and starry projections to whatever direction it faces.
Some star lights go a tad further; they do not only project stars but stunning visuals of the galaxy. Whether it is a blue nebula or a milky way, your room will instantly become enchanting with stunning visuals even without ceiling lights. You will enjoy galactic visuals that conventional light can't produce.
Portable Lights Fixtures
Why illuminate only one room when there are easy-to-move light fixtures? With a portable light, you can move the light from one dark space to the other. This Laser Star Projector is an excellent example of portable light. You can plug it into your laptop, mobile charger, or wall port. As such, it can be moved from one room to another. Wherever you place this light, you will enjoy brilliant illumination for gaming, watching TV, relaxing, or sleeping.
Natural Lights
Do you have a big window in your apartment? If you do, take advantage of natural light during the daytime to illuminate your living room. Depending on the location of the window, natural light will effectively illuminate your room for hours. This is one sure way to cut down on energy bills. Also, sunlight is a natural source of Vitamin D, an essential nutrient needed by the human body to function optimally.
Natural lights will help you save some bucks and make you healthy; what else do you want?
Arc Lamps
Another unique way to illuminate your living room without ceiling light is by installing arc lamps. Arc lamps are super-easy to install and use. They are tall, meaning no one will bump into them. They are very effective in lighting living rooms when there is no ceiling light.
Flameless Candles
This is a simple and safe option that will add a classic feel and warmth to your room. Flameless candles can be laid across a mantle, clustered on end tables, or beautifully arranged across an entertainment center.
The soft candle glow will not be enough to illuminate the whole room, but it will create a peaceful ambiance perfect for lovers to curl up on romantic nights.
Battery Lights
I have talked about battery-powered lights somewhere above in this article; they are versatile. Give it a trial. With no electrical cables, availability in different sizes and shapes, battery-powered lights are perfect for spaces where cord powered-lights can't reach.
The major concern with battery lights is that they will eventually run flat, needing replacement or recharging. This might happen when you do not expect it. Also, depending on the light design, replacing the battery might be challenging.
If you will be going for battery-powered lights, position them in places where you can easily access them and keep replacement batteries at home.
Tree Lamps
A tree lamp in your living room will give you more illumination and control over your preferred lighting of choice. For more directed lighting in your room, something brighter than the regular floor lamp, try a tree lamp.

Conclusion
From the ideas above, you can see how to add light to a room without ceiling light. The solutions are practical, aesthetically pleasing, and easy to workaround.
In fact, I'm sure you must have one or two additions I didn't mention that might do just fine. So please share your tips with us in the comments box below.
That an apartment does not have a ceiling light should not prevent you from renting it. Instead, see it as an avenue to become creative, an opportunity to come up with innovative lighting solutions devoid of complex wirings and expens